A Delicate Balance / Rongo Taketake a Tāne
Curators Ariane Craig-Smith and Chris McBride, working collectively as The Kauri Project, have developed for Te Uru Waitakere Contemporary Gallery in Titirangi a new group exhibtion titled A Delicate Balance / Rongo Taketake a Taane, which looks at the fragility of our local kauri ecology. As local developments in Titirangi create debate about the future of kauri, this exhibition is an important reminder of both the importance of locating ourselves within a wider network as well as generative role of art can play in increasing collective awareness.
Inhabiting the space where concepts of art, science and cultural knowledge intersect, The Kauri Project is a curatorial endeavour dedicated to examining the relationship between people and landscape, focusing on our unique and threatened indigenous kauri forest ecology. Since the strain of Phytopthera causing kauri dieback was formally identified in 2008, scientists have worked to understand the disease and establish how to protect kauri from this deadly threat. A Delicate Balance / Rongo Taketake a Tāne brings together new and existing work by artists from across the North Island to explore how else we might observe, listen and speak back to kauri.
The Māori title for the exhibition was developed with the assistance of Will Ngakuru, through kaumatua Hone Taimona. Rongo Taketake a Tāne is not a direct translation of A Delicate Balance, but rather a complimentary concept that draws upon the layered meanings imbedded in Te Ao Māori notions of restoration, sustenance and full awareness.
Presented in association with Auckland Arts Festival.
A Delicate Balance / Rongo Taketake a Tane runs at Te Uru from 13 February – 5 April 2015.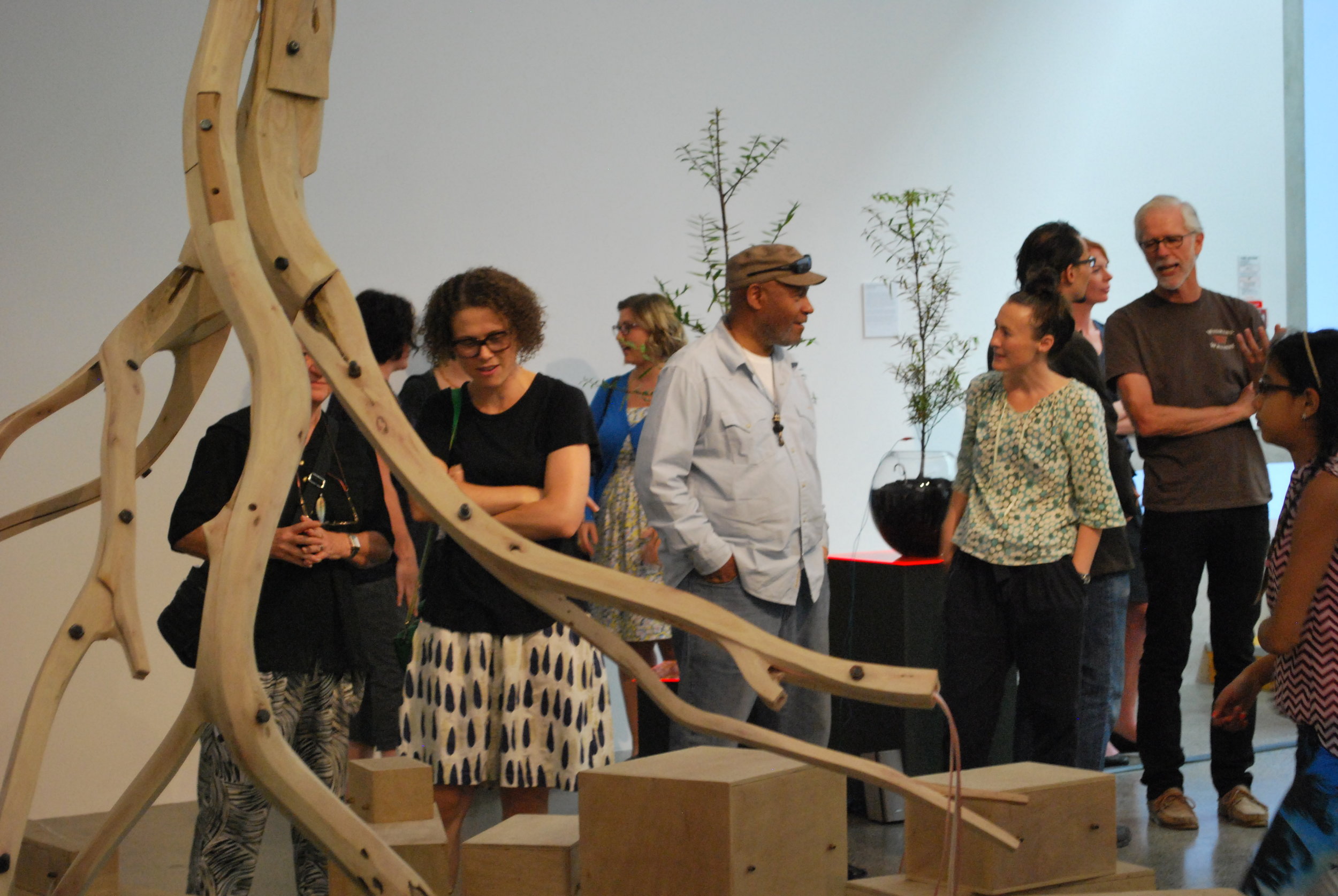 About the curators
The Kauri Project is an ongoing initiative to use art as a language for raising awareness and promoting understanding of kauri dieback disease and the scientific, cultural, social and economic contexts that inform kauri's current situation. Co-curators Chris McBride and Ariane Craig-Smith are passionate about raising awareness of environmental concerns, particularly kauri dieback through art and are working collaboratively with The Kauri Dieback Management Programme.
About the artists
Ian Clothier is a Senior Academic at Western Institute of Technology at Taranaki (WITT), Director of Intercreate Research Centre (intercreate.org) and founding Director of SCANZ (Solar Circuit Aotearoa New Zealand). Thematically, his projects often involve notions around cultural hybridity and nonlinearity, more recently integrated systems. His written work has been published in Leonardo, Convergence and Digital Creativity and he has given many conference presentations.
Phil Dadson is a sound and intermedia artist with a transdisciplinary practice including solo performances and exhibitions; building experimental musical instruments and sonic objects; digital video/audio and installation; music composition; graphic scores and drawing; sound sculptures, and improvisations with invented instruments. Phil is also the founder of New Zealand's most original rhythm/performance group, From Scratch.
Andrew Hornblow is an inventor, engineer and National Moderator for ETITO, an industry training organisation for the electrotechnology and telecommunications industries. It is a standards setting body whose goal is to ensure that enough skilled people are available to work in these industries.
Will Ngakuru (Irish, Te Roroa, Te Rarawa, Ngapuhi) is an artist living on ancestral land at the edge of the Waipoua Forest in Hokianga. A graduate of Elam School of Fine Arts and an experienced carver, he explores whanaungatanga, activism, indigeneity and the creation of communities in his practice, focusing on toi Māori. Ngakuru is the representative for Te Roroa iwi in the Kauri Dieback programme between tangata whenua, the Ministry of Primary Industries, the Department of Conservation and four regional councils to stop Kauri dieback disease and is also working with Te Roroa iwi on the proposed development of Waipoua Forest as a Kauri National Park.
A.D. Schierning was born in Matamata in 1976. She graduated from Elam, University of Auckland, in 1999 with a BFA and In 2009 with a Post Graduate Diploma. In 2001 she was awarded a residency at the Goethe Institute Berlin. A.D. has exhibited prolifically over the past fifteen years both nationally and internationally.
Ava Seymour produces collaged photographs, which have been the subject of controversy since she began exhibiting in the early 1990s with the artist assembling images that reveal humanity's dislocation. Drawing on various photographic traditions and cultural signifiers appropriated from magazines and other publications, Seymour assembles scenes of disparate bodies, architectures and forms. The effect is a powerful play on our expectations, blurring context and meaning to create formal studies reflecting an often contradictory engagement with the world. Seymour graduated from the Prahran College of Tafe, Melbourne (1989) and has work in the collection of the Auckland Art Gallery.
Clinton Watkins investigates affect through the construction of combined immersive experiences of sound, colour and scale. Work focuses on the characteristics, structures, phenomena, and processing of sonic and visual material. Installations incorporate found and custom-made audio and video hardware to create repetition, distortion, duration and form, distilled via a minimalist sensibility. He has exhibited in solo and curated group exhibitions throughout New Zealand, Australia, Europe, Asia and the United States.
About Te Uru
Te Uru Waitakere Contemporary Gallery, based in scenic Titirangi, is West Auckland's regional art gallery. After two years of redevelopment, Te Uru opened in November 2014 in a purpose-build building as part of the Lopdell Precinct. Te Uru receives core funding from the Waitakere Ranges Local Board of Auckland Council.